Jon Lord All Those Years Ago - UNSIGNED LAST 6 COPIES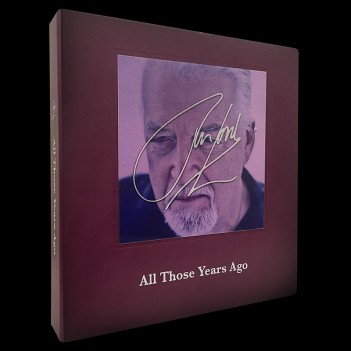 Jon Lord All Those Years Ago - UNSIGNED LAST 6 COPIES
These copies were bound for a different project and previously sold through PledgeMusic.
The book features, never before seen, personal family photographs, Jon's own photographs from Deep Purple, contributions from Jon's colleagues, friends and family, unpublished professional images and new, previously unreleased music on a 10" single including the beautiful All Those Years Ago.

The books also features a history and recollection of Jon's early life from birth to the start of Deep Purple by his brother Steve Lord.
Featuring an introduction from Jon's friend and fellow keyboard player Rick Wakeman
The book is bound in a blue recycled material and packaged in a beautiful purple clamshell box with a lenticular image on the front.
Also features unique contributions from Ritchie Blackmore, Ian Gillan, Roger Glover, Ian Paice, David Coverdale, Glenn Hughes, Lars Ulrich, Bernie Marsden and many others
Book Specification
Binding and size
Threadsewn, 310mm x 310mm square.
Cover materials
Purple buckram Cover with gold foil emboss logo and white foil logo
Number of pages and paper type
240 pages, 170gsm silk art paper.
Clamshell
A beautiful lined clamshell box finished in faux purple suede with Jon's signature foil embossed on the front.
Other items
A Live DVD of The Concerto for Group and Orchestra from 2009 and a 10" purple vinyl single and CD of the track All Those Years Ago, both previously unreleased. Supplement of Fin Costello's photography, supplied in a separate clamshell and individually signed by Glenn Hughes