Norman Parkinson with The Beatles (Leather Signed Edition) ONLY 10 LEFT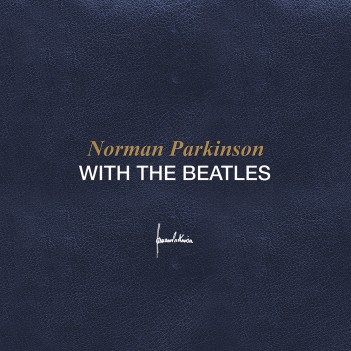 ONLY 10 COPIES LEFT. EACH SIGNED BY SIMON PARKINSON. ONLY 10 LEFT. £120 EACH
This edition is bound in recycled leather, numbered, individually signed by Simon Parkinson (who was one of the photographers on the day) and comes in a clamshell box with a limited, official Norman Parkinson silver gelatin print.

The Norman Parkinson Archive is delighted to announce the publication of a very special limited edition book of unique, unseen photographs of the Beatles. The book published in collaboration with Rufus Stone Limited Editions brings together for the first time over 500 rarely seen and previously unpublished photographs of the Beatles by Norman Parkinson. At the time of this shoot Parkinson, was Britain's most important fashion photographer and was Associate Editor of Queen magazine; the Beatles were fast on their way to establishing themselves as the world's greatest pop band.
The images include a group of unpublished photographs showing the Beatles recording their second album inside Studio 2 at Abbey Road Studios, September 12th 1963 as well as images taken earlier in the day at the President Hotel in Russell Square.
This album, engineered by Norman Smith and produced by George Martin was eventually recorded in just 28 hours over a six-day period on twin track tapes. The photographs featured in the book have been reproduced and carefully restored from the original negatives kept safely in the Parkinson Archive. While a small selection of these images were originally published in 1964 in a magazine aimed at the American market the vast majority of these photographs will be seen for the first time in over half a century. The images have been carefully arranged to match and identify the songs being recorded, including "I Wanna be Your Man, Little Child and Don't Bother Me" and a narrative has been written by Mojo Magazines Pat Gilbert. As well as working on the album the band have been captured relaxing between takes.
This exquisitely produced 288 page book, printed and bound in the United Kingdom, promises to appeal to both Beatles collectors as well as Parkinson aficionados and is certain to become a genuine collectors' keepsake.
Each copy is individually numbered.
Book Specification
Binding and size
Threadsewn, 310mm x 310mm square.
Print
Limited Edition, exclusive Norman Parkinson Silver Gelatin print.
Cover materials
Recycled leather, casebound with gold and white foil deboss.
Number of pages and paper type
288 pages, 170gsm silk art paper. Individually signed by Simon Parkisnon
Clamshell
Printed, laminated and foiled clamshell box.